The U.S. Department of Veterans Affairs has come under heavy scrutiny in recent months for its sizable backlog of disability claims, stemming from an increase in disabilities claimed by returning servicemen and servicewomen from overseas duty.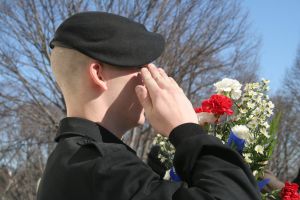 Our Boston Social Security Disability Insurance attorneys understand that the agency has made an aggressive effort in the last month to clear some of those oldest claims, with about 70 percent, or 611,000, more than 125 days old. Some of the oldest have been pending for more than two years.
With a veteran's disability claim, the VA will provide compensation to an individual who suffered an injury or disabling condition during his or her time in active military service. Some of the most common disabling conditions among veterans include post-traumatic stress disorder (or PTSD), brain injuries and musculoskeletal injuries.
By contrast, the federal SSDI program is available to all U.S. citizens, regardless of their military service. Typically, it's available regardless of whether the injury or condition occurred while on-the-job. However, in order to qualify for an expedited claim, a military member or veteran has to show the condition began while on-duty. He or she need no longer be an active military member to qualify.
The key point that must be proven is that the condition is severe to the point that it prevents the sufferer from working for at least one year.
There are a number of conditions for which military veterans could obtain disability benefits from both the VA and the Social Security Administration.There is nothing barring a veteran from collecting both.
In fact, a veteran's claim for SSDI benefits may actually be fast-tracked. It's called the Wounded Warriors program. It's available for military service members who became disabled while on active military service either on or after Oct. 1, 2001 – regardless of where the disability occurred.
Service members of all branches of the military are eligible for expedited claims. These include:
Service members who were on full-time duty in the U.S. Army, Air Force, Coast Guard, Marine Corps or Navy;
Service members who were on active duty for training purposes at any of the aforementioned branches;
Students in U.S. Military academies, including the U.S. War College, West Point or the Naval Academy;
Students at pre-deployment training centers;
Air Force or Army National Guard members who were ordered to active full-time duty pursuant to a presidential order during a time of national emergency or war;
Reservists who were called to active duty;
Reservists who were undergoing annual training or full-time training;
Reservists who were attending a school designated as a Military Service School.
Military veterans would be wise to apprise themselves of this opportunity, as claim expedition is only extended to others who can prove dire need (an inability to afford food, medical care and shelter without it) or in cases of terminal or severe illness in Compassionate Allowance claims.
An expedited claim doesn't mean you're necessarily guaranteed benefits. You'll still have to prove your disability per the stringent standards outlined by the SSA. Having an attorney to help you can exponentially improve your chances.
What an expedited claim does mean, however, is that you won't have to wait years to get a decision. If your initial application is denied, you can quickly move onto the next phase of a hearing before an administrative law judge.
An award of VA benefits won't automatically result in SSDI benefits, or visa versa, so it's important to secure separate legal representation when applying for SSDI.

If you are considering filing for SSDI in Boston, call for a free and confidential appointment at (617) 777-7777.
Additional Resources:
VA Reduces Disability Compensation Claims Backlog, June 20, 2013, Department of Veterans Affairs News Release
More Blog Entries:
Top SSDI Claims for Men Highlighted For June Men's Health Month, June 1, 2013, Boston Social Security Disability Insurance Lawyer Blog