A U.S. appeals court issued a ruling recently that rejected a disabled worker's rights under the Americans with Disabilities Act. It's the latest court ruling to undermine the rights and protections under federal law that are afforded to employees with disabilities who have been forced to apply for financial assistance from the federal government.
In Pena v. Honeywell International, Inc., No. 18-1164 (1st Cir. April 26, 2019), the First Circuit court ruled a Honeywell machine operator who claimed total disability on her Social Security Disability Insurance application failed to show she qualified for protection under the Americans with Disabilities Act 42 U.S. Code § 12101. The First Circuit hears appealed cases from Maine, New Hampshire, Massachusetts, Rhode Island and Connecticut.
The court ruled plaintiff failed to meet her burden of proof in showing that she was disabled under the American with Disabilities Act. The appeals court affirmed a district court's summary judgment in favor of Honeywell, ruling that plaintiff's insistence she was "totally disabled" did not support her ADA claim, for which she needed to prove she was capable of doing her job, with or without special accommodations.
Experienced Boston work injury lawyers know there are important and essential differences between protections offered by SSDI and those afforded under the ADA. As the U.S. Supreme Court has pointed out, the definition for SSDI "does not take the possibility of 'reasonable accommodation' into account," as the ADA does. In the 1999 cases of  Cleveland v. Policy Management Systems Corp., U.S. Supreme Court #97-1008, the Supreme Court ruled an employee who is receiving SSDI benefits can still sue an employer for violating rights under the ADA for refusing to make adequate accommodations under the law.
In that case, Supreme Court Justice Stephen Breyer wrote judicial estoppel does not automatically apply to an SSDI claimant who pursues a claim under ADA. Judicial estoppel precludes a party from taking a legal position that is contrary to a previous position maintained at an earlier judicial proceeding. However, the court ruled the burden rests with the plaintiff to prove a disability claim under SSDI is not inconsistent with the special accommodations afforded under the ADA.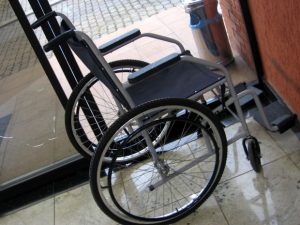 "ADA plaintiff cannot simply ignore her SSDI contention," Breyer wrote. "To survive a motion for summary judgment, the plaintiff must explain why the information in the SSDI filing is consistent with showing that the plaintiff is otherwise qualified for the position at issue."
Disability Definitions under SSDI and ADA
The Americans with Disabilities Act prohibits discrimination against people with disabilities in matters of employment and housing. Title 1 of the ADA offers employment protections for people with physical or mental impairments and requires employers to make reasonable accommodations.
However, employers have a number of defenses, including arguing undue hardship. Undue hardship is defined as an action requiring significant difficulty or expense when considered in light of factors such as an employer's size, financial resources, and the nature and structure of its operation. Claims may also increase an employer's insurance rates and so requests for accommodations are often vigorously contested, especially when an employer's insurer has already paid a workers' compensation settlement or the employee has already qualified for SSDI or SSI benefits through the federal government.
An employer is also not required to provide personal items such as eyeglasses or hearing aids. Neither does a business have to lower production or quality standards in making accommodations for a person with disabilities.
Under SSDI, disability is defined as an inability to engage in any substantial gainful activity. Proving disability entitles recipients to benefits under the Social Security Disability Insurance program (title II of the Social Security Act (Act)) and the Supplemental Security Income (SSI) program (title XVI of the Act). Inability to perform substantial gainful activity must be because of a physical or mental impairment expected to result in death or that is expected to last for a continuous period of at least a year.
Employment while Receiving SSDI Benefits
The government employs rigorous conditions upon applicants, as well as lengthy delays and routine denials. Independent medical examinations are typically required and applicants must prove they are incapable of performing any job available in their geographical region, not just a job in their current career field or at their current income level.
In most cases, the law permits those collecting disability under SSDI to earn as much as $1,220 a month while receiving benefits. And the government has taken other steps to try to move people back to work, including a nine-month trial work period, in which recipients can continue to receive benefits while attempting to re-enter the workforce. Thus, the conflict between proving total disability under SSDI and ability to work with accommodations under ADA, is really a conflict within SSDI. These types of attacks against an SSDI recipient's rights under ADA must be vigorously contested (and can often be avoided in the first place) by an experienced Boston work injury lawyer.
The Americans with Disabilities Act offers vital protections to these workers. Protections under ADA often prevent employers from retaliating against an employee who has filed a work injury claim under workers' compensation, or an injured worker who is seeking disability benefits. Consulting a disability lawyer in Boston with extensive experience in handling work injury claims, including workers' compensation claims, social security disability claims, and employment law violations under the Americans with Disabilities Act, can best protect your rights in the wake of a serious or disabling work injury.
The complexities of the system is among the primary reasons we recommend seeking qualified legal help whenever work injury results form lost time at work. Future restrictions relevant to pre-existing conditions, medical complications, long-term consequences of injury, and the possibility of workplace retaliation are all reasons why your work injury claim is best left in the hands of experienced legal help. Today's legal and legislative environment make it incumbent upon the individual worker to assert the rights and protections to which they are entitled under the law.
If you or a loved one is seeking Social Security Disability Insurance in Boston, call for a free and confidential appointment at (617) 777-7777.