Investopedia reports the average Social Security Disability Insurance benefit next year is expected to be $1,234, little changed from this year.
Still, Congress is once again aiming drastic cuts and benefit reductions at the Social Security Disability Insurance (SSDI) and Social Security Income (SSI) programs.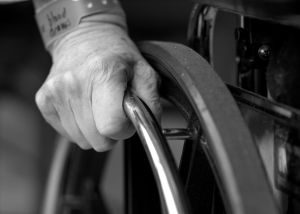 The Hill recently reported Rep. Todd Rokita (R-Ind.) is among the most recent to introduce a bill, though he is far from lonely. The Making DI Work for All Americans Act of 2018 (H.R. 6352) would also make the program solvent over the long run, while setting the stage for a significant payroll tax cut, according to the press release. Unfortunately, when it comes to the SSDI program and the SSI program, the wolves have long been at the door. The truth is these two programs provide vital lifelines to fewer than 5 percent of the nation's workforce. Those eligible for SSDI are entitled to such benefits by virtue of having paid into the system via payroll taxes for years before becoming disabled on the job. Those benefits are often so inadequate that they are still eligible for SSI, which is an income-based needs program designed to help the poorest Americans.
In recent years, the disability insurance program has paid about $140 billion annually, or about 0.8 percent of gross domestic product (GDP), in benefits to almost 9 million disabled beneficiaries, with about 2 million of those beneficiaries being spouses and children, according to the Congressional Budget Office. Between 1970 and 2014, the number of claimants more than tripled. The share of working-age people who receive disability insurance benefits as a result of their own disability, and whose disability benefits are calculated on the basis of their own disability and work history,  increasing from 1.3 percent to 4.5 percent, before declining slightly in 2015.
But this is to be expected with an aging workforce. Particularly when you factor in the fact that the Baby Boomer generation was the last to engage in heavy manufacturing and other industries where disability has been more likely because of the long-term physical consequences of such labor.
Seeking Experienced Legal Help After Disability in Massachusetts
A young person starting a career today has a 1 in 3 chance of dying or qualifying for SSDI before reaching Social Security's full retirement age, according to the Center on Budget and Policy Priorities. So it stands to reason that an aging workforce would result in higher numbers of disabled Americans applying for benefits. It's shameful that our nation's lawmakers would rather work to limit benefits than to compromise on a list of reasonable spending priorities.
Yes there are significant issues that need to be addressed, but most of those revolve around fairer treatment and a more timely response to claimants — not Congressional initiatives where the main objectives are to reduce benefits and cut payroll taxes.
There are many good reasons why those seeking Social Security Disability Insurance benefits should seek the advice of an experienced law firm.
As our SSDI lawyers in Boston have written, applying for SSDI benefits is a complex matter rife with frustration, rejection and long delays. In April, we wrote about a rare funding increase to address the huge backlog of SSDI claims in Boston. Nationwide, there is an average wait time of more than 600 days for an ALJ hearing in the U.S., which is the step at which most well-reasoned and prepared claimants finally receive benefits. In August we wrote about the risks of going back to work while collecting SSDI benefits.
This is by design amid a political climate where the only mention of this vital program is the need to cut funding to bolster tax cuts and other government spending.
Impact of Personal Injury Settlements on SSDI and SSI Benefits
An important and often overlooked reason to consult a Boston injury law firm is that workers' compensation benefits or lawsuits against one or more third parties could result in additional compensation. Even those who successfully obtain SSDI benefits, still often require Supplemental Security Income and even then face significant financial struggles. Eligibility for SSDI is determined by a complex calculation based on the average indexed monthly earnings (AIME) which is used to calculate the primary insurance amount (PIA).
In 2017, the average monthly disability payment was $1,171, and the maximum monthly benefit was $2,687.
Medicare and Social Security Disability Income benefits are an entitlement and are not income or asset sensitive. Eligible employees who have paid into the system through payroll taxes for a determinative number of quarters may receive benefits. However, eligibility is asset and income sensitive when it  comes to Social Security Income and Medicaid benefits. Both factors should be important considerations for disabled Americans who are not keen on living the rest of their life on $1,200 a month.
The National Council on Aging provides a nice explanation of the differences between SSDI AND SSI benefits.
Not only should your chosen law firm have significant experience and a long track record of success litigating SSDI, workers' compensation, and injury lawsuits, but knowing and understanding the impact of securing a settlement or judgment is equally vital when it comes to protecting your rights to government benefits over the long run, including the right to Medicare and Medicaid, vital government health benefits upon which most of the nation's disabled and poor are forced to rely.
A personal injury award can make someone who is disabled ineligible for such government income-based programs. Proper legal and estate planning is vital in such cases. For example, a special needs trust may be legally created to hold an economic recovery, which will preserve your rights to public-assistance benefits since assets held in special needs trust are not a countable income source for the purposes of Medicaid or SSI eligibility.
Early consultation with a Massachusetts law firm experienced in each of these areas of law will offer you the best chance when it comes to securing the financial future of you and your family.
If you or a loved one is seeking Social Security Disability Insurance in Boston, call for a free and confidential appointment at (617) 777-7777.