Papesh v. Colvin, a case from the United States Court of Appeals for the Eighth Circuit, involved a claimant who worked as a bakery assistant, where she helped decorate cakes. She had earned a GED and lived with her husband and her adult daughter.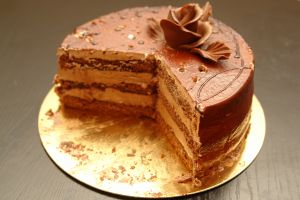 She began to experience pain, which eventually got worse. Claimant reported to doctor she had long-term lower back pain, which radiated through her legs and hips. She reported the pain was worse while she was working, because the bakery's concrete floors were difficult to stand on for an entire day. She started to develop palpation of her lumber spine as well as general back pain.
After turning 50, the pain had gotten to a point where claimant could not stand to work an entire eight-hour shift at the bakery. After working, she was forced to lie on her back with a pillow under her knees and use an ice pack. Her treating physician determined she had some disc problems and chronic changes to her nerve bundles. He did not believe she suffered from true radiculopathy and referred her to an interventional pain clinic and a neurosurgeon. Her doctor also ordered she not work during the three weeks of the busy season at the bakery.

Following her three weeks off from work, claimant reported this was the best she felt in years, and her leg pain was gone. She still continued to suffer from back pain, but the pain was more manageable at this point, and she could ease the pain by taking breaks and using ice packs. However, things took a turn for the worse, as her mother's health deteriorated. Her mother was suffering from dementia and, claimant was helping car for here. At this point, she reported to her doctor she was suffering from anxiety and depression.
Claimant filed a claim for Social Security Disability Insurance (SSDI) benefits and Supplemental Security Income (SSI) for degenerative disc disease, fibromyalgia, depression, anxiety, and other health issues. Social Security Administration (SSA) denied her application, and she appealed the denial.
As our Boston disability insurance attorneys can explain, SSA denies the vast majority of all claims, especially those filed by unrepresented claimants, without regard to their merit. At this point, you can appeal the denial in writing and eventually request a hearing before an administrative law judge (ALJ). Having an experienced SSDI benefits attorney on your side will significantly increase the chances you will successfully obtain a benefits award.
Claimant had a hearing before an ALJ, and he made a finding she was not disabled, because she could perform light work, which required standing, and carrying objects weighing up to 20 pounds on an occasional basis and objects up to 10 pounds of a frequent basis. ALJ dismissed treating physician's opinion on grounds it was not supported by evidence, like the opinion of a doctor SSA had hired who said claimant was not disabled.
At this point, claimant appealed the denial of benefits to the intermediary court of appeals, and, after this court affirmed ALJ's ruling, she appealed to the United States Court of Appeal for the Eighth Circuit. During this appeal, the court reversed the finding and ordered the case be remanded.
If you are seeking Social Security Disability benefits in Boston, call for a free and confidential appointment at (617) 777-7777.
Additional Resources:
Papesh v. Colvin , May 27, 2015, United States Court of Appeals for the Eighth Circuit
More Blog Entries:
SSDI Approvals Lowest in Five Years, June 20, 2014, Boston Social Security Disability Lawyers Blog