According to a recent article from Metro Weekly, representatives of same sex couples have filed a lawsuit against Carolyn Colvin in her capacity as Director of the United States Social Security Admission (SSA).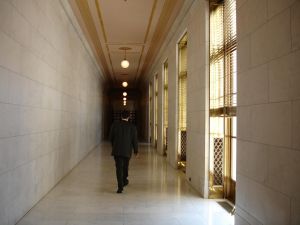 Plaintiffs claim after the Supreme Court of the United States (SCOTUS) struck down provisions of the Defense of Marriage Act (DOMA) pertaining to Social Security benefits for couples in a same-sex marriage, SSA continued to deny them benefits for a year after the landmark decision in the Windsor case. Gay and Lesbian Advocates and Defenders (GLAAD) and Justice and Aging have filed this class action lawsuit on behalf of plaintiffs.
Court papers alleged SSA was constitutionally required to recognize plaintiffs' same-sex marriage after Windsor, but chose not to do so for a year. Now that SSA is recognized same-sex marriages, they are going back and trying recoup what they consider over-payments of Supplemental Security Income (SSI) benefits.

Basically SSA would not recognizing a same-sex marriage, which was unconstitutional, but was also not taking into account a claimant's total household income when determining if claimant's qualified as low income. Now that are finally recognizing same-sex marriages, they are going back and demanding repayment from past beneficiaries. Plaintiffs to this lawsuit claim this to be in violation of their rights and are asking the courts to intervene.
It should be noted, claimants who are plaintiffs in this class action lawsuit against SSA have taken affirmative steps to notify the agency of their marriages and were still awarded the same amount of benefits, as the agency was not recognizing their marriages.
Plaintiffs say it is unfair and unjust for SSA to try to make up for its prior unconstitutional conduct by demanding repayment from people who are both poor and disabled 18 months after they paid these benefits.
As our Boston disability benefits attorneys can explain, Supplemental Security Income (SSI) is a program SSA runs that is designed to provide benefits for disabled children, adults, and elderly Americans living in low-income households. The program covers specific disabilities, including blindness, but has strict financial guidelines applicants must meet to be qualified to receive benefits.
One named plaintiff in the class action lawsuit entered into a same-sex marriage in California in 2008 where it was recognized. The year after SCOTUS handed down the Windsor decision, his monthly benefits were reduced from just under $900 to just over $300. To make matters worse, SSA then sent him a bill for over $6,000 demanding back payment for "overpaid" benefits, because SSA had not included claimant's husband's income during the year following Windsor.
Plaintiff's attorneys said the problem was due in large part to SSA not establishing policies to protect the constitutional rights of claimants, and claimants should not be the victims of the financial consequences of SSA's continued discrimination. Specifically, plaintiffs are asserting SSA's refusal to recognize the same-sex marriages and the attempt to collect alleged over-payments constitutes a violation of Due Process and Equal Protection clauses of the United States Constitution and Bill of Rights.
Social Security Administration sued for recouping same-sex benefits.
If you are seeking Social Security Disability Insurance benefits in Boston, call for a free and confidential appointment at (617) 777-7777.
Additional Resources:

Social Security's Strict Disability Rules, September 20, 2014, Wall Street Journal
More Blog Entries:
Social Security Administration sued for recouping same-sex benefits, March 10, 2015, Boston Disability Lawyers Blog