During the height of the wars in Iraq and Afghanistan, it was impossible to watch the news without seeing the consequences to brave men and women of our armed forces. Many were killed, and even more were sent home with serious disabilities caused by improvised explosive devices (IEDs) and other combat-related injuries, including traumatic brain injury (TBI).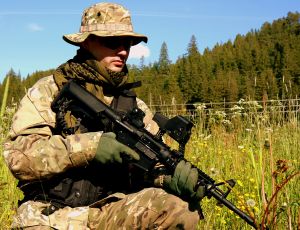 According to a recent news article from Forbes, wounded service members have been sending open letters to their respective Congress members asking for help with the Social Security Disability Insurance (SSDI) benefits application process. One of those letters was from a medically discharged U.S. Army soldier. He describes how he became disabled and what has happened since getting back to the United States.
After he completed his last combat tour, he was assigned to the Army's Wounded Warrior Program at Fort Knox. Medical professionals at the program evaluated claimant and had him undergo two surgical procedures. He also went to physical therapy and received treatment to manage his pain. He applied for SSDI benefits in May of 2013. It took them nearly an hour to verify he was even eligible to apply for SSDI as a member of the Wounded Warriors, despite him immediately showing them a Social Security Administration (SSA) publication about Wounded Warriors' right to SSDI benefits. Once he was allowed to apply, SSA denied his application, finding he was still employable. He had to file an appeal to this denial.

He was in the process of having another surgical procedure and had to update SSA on where he currently was in the process. He is right handed, as he told SSA, and the surgery was on his right wrist. This was a second surgery on his right wrist and involved attaching a metal plate with steel screws. He also had disc issues in his back and neck and many other nerve disorders caused by his combat tour. He also had a sleep disorder, anxiety, and other mental health issues. As our Boston disability attorneys can explain, once an application is initially denied, the first appeal is almost always denied as a matter of unofficial SSA policy.
Once he informed SSA of his latest surgery, his application was again denied, claiming there was no permanency to his condition. SSA asked him for final disability rating from the U.S. Army. This paperwork took a long time to obtain, and once he gave it to SSA, they said it was too late and denied his application once again.
He had to file yet another appeal. He said everyone recommended he get an experienced disability attorney if he was to have any realistic chance at successfully obtaining benefits. He said he doesn't know what to do at this point, and is asking his Congress member to help.
The reality is the SSDI application process is set up in a way as to create a major disadvantage to unrepresented parties. All those who told him to get an attorney, including his social workers, were correct that having an experienced advocate on your side to fight for your rights will seriously increase the likelihood of getting SSDI benefit. Though it is important to note, you do not need to wait until you get all the way through the process to speak with an attorney. The earlier you seek representation, the better your results may be.
If you are seeking Social Security Disability Insurance in Boston, call for a free and confidential appointment at (617) 777-7777.
Additional Resources:
Senators Baldwin and Johnson – Please Help This Wounded Vet, March 18, 2015 Forbes
More Blog Entries:
Hanson v. Colvin: A Critical Look by a Court of Appeals on a Denial of Benefits, August 14, 2014, Boston Disability Lawyers Blog